Watch "The Magic & Mystery of Sable Island"
A film by Gary Jobson
About 200 miles southeast of Halifax, Nova Scotia sits a remote island of sand, and grass.
This crescent shaped island is home to a herd of 500 wild horses, many thousands of gray seals, and some birds and insects that are indigenous only on Sable Island.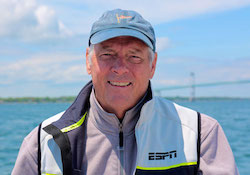 In August I organized a cruise to Sable with the goal of producing a documentary.
While the scenery is beautiful, sadly, it is also the site of 350 shipwrecks over the past 500 years. The low sand dunes make the island difficult to see. Fog surrounds the island on more days than not.
Our yacht, with a crew of six, was the only sailing vessel given permission to land on Sable Island in 2015.
Our crew included two archaeologists, three sailors and a cameraman. We were very lucky to visit the island on three unusually clear days. It is a miracle that Sable even exists. Sable, by the way, is a French word that means, "sand." By all accounts the 26 mile long island was formed during the last ice age. It is barely one mile wide.
To the north the Labrador Current sweeps past, and not far to the south, the Gulf Stream flows in the opposite direction. The combination of currents, waves and storms has a huge impact on the position, and shape of Sable Island. A few Canadian researchers, meteorologists, and park rangers rotate living on the island. 
During our visit we interviewed the experts on the island about its history. The archaeologists found many fascinating artifacts. The horses provided endless fascination with their migratory patterns each day. There were no human footprints anywhere to be seen. It became apparent that we were seeing what the east coast of North America must have been like before any development took place. It felt as remote as my expeditions to the polar regions. The seals looked like they enjoyed life, but just outside the surf line dozens of sharks waited for an opportunity to attack. Clearly, swimming was out of the question. This documentary will take you a very remote, and seldom visited place. 
Runtime: 42 minutes
Trailer: "The Magic and Mystery of Sable Island" 
Watch the entire film from the Playlist in our Film Library