By Gary Jobson
July 31, 2013
The anticipation around the waterfront in San Francisco is building in advance of the Louis Vuitton Cup Semi-final series scheduled to start on Tuesday August 6.At this writing no one has any idea whether Artemis Racing or Luna Rosa will advance to the final against Emirates Team New Zealand?The only known answer to this question is one team will advance the other will be eliminated.

So far it has been an uneven summer for both Artemis Racing and Luna Rosa. The tragic capsize by Artemis Racing on May 9 was a big setback for this team.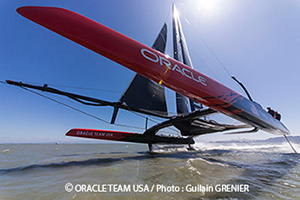 By Gary Jobson
August 2, 2013
When I arrived at Pier 80 on the San Francisco waterfront for my day of sailing aboard Oracle Team USA's AC 72 catamaran, the first sailor I met was the tactician, John Kostecki. His first words got my attention, "When they give you the safety lesson, pay attention!" Later that morning I got the safety briefing that included how to wear the wet weather gear, use an oxygen tank, strap on a helmet, and know what to do in case of an unscheduled problem.
By Gary Jobson
August 13, 2013

The biggest question in every sport is who is going to win the contest? On paper, Emirates Team New Zealand looks like an easy victor against Italy's Luna Rossa in the Louis Vuitton Cup challenger trials. In July, New Zealand defeated Luna Rossa in every head-to-head race by over one mile. Last week, however, the Italian crew improved each day against Artemis Racing in the semi-final match. Did the competition help Luna Rossa enough to possibly defeat the powerful Kiwis?
By Gary Jobson
August 20, 2013
Usually, when I watch a sporting event, I cheer for one team or the other. At this point in the Louis Vuitton Cup Final, I am cheering for the regatta itself. Please let's complete a full race with both boats crossing the finish line! After three days, we have seen three races and only one boat finish each race. Is this America's Cup going to get rolling?
Read more: AC Report #4: What Will Happen Next in the Louis Vuitton Cup?
By Gary Jobson
August 28, 2013
Wake up sailors! We are going to see a unique, and most likely, one-time sailing event that I think will be an unbelievable spectacle. So far, the blowout races, breakdowns, one-boat contests, and weather delays have marred the America's Cup. But we should all put that in the past. Beginning Saturday, September 7 this battle is going to be emotional, hard-fought, fast and exhausting. Can the tiny nation of New Zealand reclaim the America's Cup, or will business titan Larry Ellison hold on to the Cup in his home waters?
By Gary Jobson
September, 7 2013
One day doth not an America's Cup make, but it sure was an eye opener.Emirates Team New Zealand completely dominated Oracle Team USA in the first two races of the 34th America's Cup defense. The most interesting thing for me was watching the body language and attitude onboard the American boat as they began to realize that their AC72 was off the pace compared to the challenger. Oracle's design team will work hard to find ways to increase the speed of their boat, however one has to believe each boat started the series with their best equipment. Simultaneously, the sailors and their coaches need to take a critical look at their sailing performance. The USA was off in just about every aspect of the race.
By Gary Jobson
September 8, 2013
When Oracle Team USA's sailors and shore crew arrived at their compound at Pier 80 early this morning, the America's Cup trophy was sitting on a pedestal in front of the AC 72. No one knew how it got there. But, it was an inspirational reminder of their mission. The sailing team looked fired up for Day Two of the America's Cup, even though they lost both races yesterday. Everyone around the waterfront in San Francisco was wondering how the American team could turn things around?
By Gary Jobson
September 11, 2013
After three days of racing at the 34th Defense of the America's Cup, the challenger, Emirates Team New Zealand, needs to win five of the next 14 races to defeat Larry Ellison's Oracle Team USA. In contrast, OTUSA must win ten of the next 14 races to successfully defend. This is a daunting task for the American team, based on the performance of both boats in the five races that have been sailed so far on San Francisco Bay. The USA elected not to sail the second race on Day Three. Skipper Jimmy Spithill said, "It is time we regroup; we need to make some changes." There is a scheduled lay day before racing resumes on Thursday. Can Spithill and his team turn adversity into victory? It will not be easy.
Read more: AC Report #8: Overcoming Adversity at the America's Cup
By Gary Jobson
September 13, 2013
For the first time in my sailing career I saw the perfect start. I mean PERFECT. In Race 8 of the 34th America's Cup defense, New Zealand's skipper Dean Barker approached the starting line to windward and ahead of Oracle Team USA's Australian skipper, James Spithill. In seven previous races Barker has won two starts, while Spithill has taken the other five. The Kiwis have been dominant throughout the series, except for the starts. After race six, I asked Barker what he was going to do to improve? Through gritted teeth he simply said he needed to do better. And boy did he deliver.
By Gary Jobson
September 14, 2013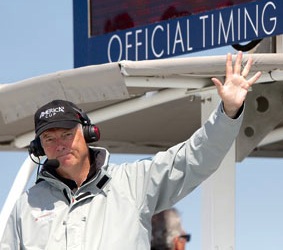 The sight of Emirates Team New Zealand teetering on its side was frightening. I'll bet that the entire population of that small country held its collective breath at that moment. On the third leg of the ten-mile course in Race Eight of the America's Cup, the Kiwis lost control of their AC 72. During a routine tacking maneuver, about two boat lengths away from the American boat, the wing of NZL inverted. The boat dangerously heeled over at a 45-degree angle.
By Gary Jobson
September 15, 2013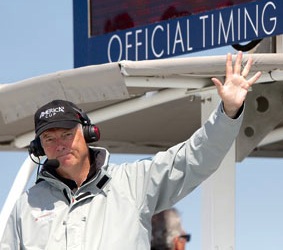 When I arrived off the water this afternoon following two thrilling America's Cup races, my co-commentator, Ken Read, said, "Sailing will never be the same." The vision Larry Ellison and Russell Coutts had about high-speed catamarans racing up and down San Francisco Bay is now a reality. Sure, it got off to a slow start in July, but today was some of the most exciting racing I have witnessed as a competitor or spectator. We may never see a spectacle like this again, but right now the 34th America's Cup defense is proving to be sports theater at its best.
By Gary Jobson
September 18, 2013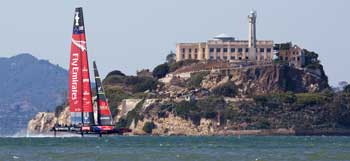 Imagine what is going on in the mind of Oracle Team USA's Australian skipper, Jimmy Spithill. His team is down 8-1. One more loss and the America's Cup moves on to New Zealand for the second time in 18 years. You might think the pressure is enormous, but I hope his focus is simply on winning the next race. He cannot think about the final result, the consequences, the disappointment, or his next gig. Spithill needs to win the next start, then get ahead, and find a way to stay ahead. If he does that, he can move on to the next race.
Read more: AC Report #12: Inner Strength at the America's Cup
By Gary Jobson
September 19, 2013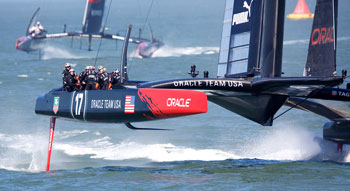 The champagne was on ice. Blue blazers were at the ready. But Oracle Team USA's Australian skipper James Spithill ignored everything around him except winning the start of Race 12 of the America's Cup. He steered USA 17 into the starting box at 35 knots from the favored port side. Emirates Team New Zealand was late entering from the starboard side. Kiwi skipper Dean Barker maneuvered toward the starting line early. The ebb current was beginning to flow out of San Francisco Bay. The leeward end of the line looked to be favored. Barker wanted that position but he had to kill a lot of time. Spithill stalked his prey from behind as the two boats approached the line. Barker was at risk of jumping the gun.
By Gary Jobson
September 20, 2013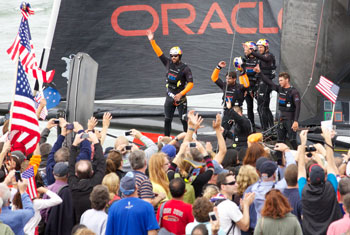 How would you like to have four-time British Olympic champion, Sir Ben Ainslie, calling tactics for you in the biggest race of your life? Adding to the collective wisdom of the Team Oracle USA afterguard is another Olympic champion, Australian Tom Slingsby. The USA team (with only one American on board) took another step closer to defending the America's Cup.
By Gary Jobson
September 22, 2013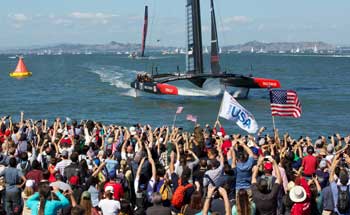 Can Emirates Team New Zealand dig into their collective inner soul and find a way to win the 34th America's Cup? The way it is going, the Kiwis are in deep trouble.
Oracle Team USA is on a roll. They are winning starts, sailing really smart, and at times they are blazingly fast. The USA still needs to win four races to successfully defend, while NZL only needs one victory to take the Cup down under. Race 16 on Monday will mark the longest period in Cup racing days since the first defense in 1870.
By Gary Jobson
September 23, 2013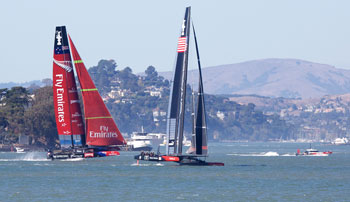 President Bill Clinton had a great expression when meeting people with troubles. He always connected by saying, "I feel your pain." To paraphrase Mr. Clinton, "We are feeling Emirate Team New Zealand's pain." The fading, near-winners of the America's Cup just don't seem to have an answer for the remarkable comeback by Oracle Team USA.
By Gary Jobson
September 24, 2013
The 34th America's Cup defense has turned into more of a people show than a boat show. Sure, the boats are amazingly fast, technological marvels, but the emotional highs and lows that we are feeling while watching and listening to the sailors compete is the epitome of human drama. How could anyone write a script for such a compelling narrative?
Think about these story lines: The America's Cup has been won and lost by the most successful business leaders of their eras. This is the oldest continuously contested trophy in international sports, dating back to 1851. The score is tied at 8-8.
By Gary Jobson
September 25, 2013
Today's victory by Team Oracle USA concluded an America's Cup that will add quite a unique chapter to the long history of this regatta. At the post race press conference, team owner Larry Ellison was on stage. He was gracious, funny, respectful, interesting and happy. I sat among the 100 or so journalists, thinking to myself, "Where has this guy been?" Ellison explained that he was absent because he simply wanted to support his team, and let them run the defense. There was no doubt, however, who was in charge. Alongside Ellison were the Australian skipper of OTUSA, James Spithill, the Australian strategist, Tom Slingsby, and the British tactician, Ben Ainslie. The team leader, New Zealander, Russell Coutts was not on stage, and he was missed. Ellison gave Coutts considerable credit for pushing the team to improve when they were behind. Something happened during 19 races over the past 19 days that took the American team from awful to spectacular.